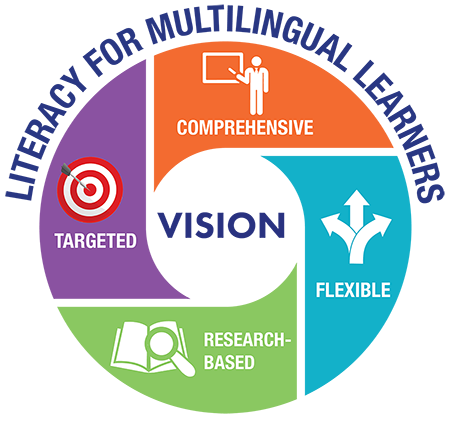 Our vision of literacy instruction for multilingual learners (MLs) is:
Comprehensive. While some literacy programs teach decoding skills by themselves and out of context, good literacy instruction for MLs integrates:

meaning making (learning new concepts),
language development (vocabulary and how language works, such as the order of words in a sentence),
foundational skills of reading (phonics, phonemic awareness, and fluency)

Flexible. Good literacy instruction for MLs builds on what students already know, including their home languages and cultures. Teachers use a variety of materials and instructional strategies to meet students' needs, whether learning to read and write in their home language, a new language, or both.
Research-based. There is not one, settled "science of reading." Rather, good literacy instruction for MLs draws on diverse areas of research, including second language acquisition and dual language development. Research on dyslexia provides important insight, but should not drive the development of literacy instruction for all children.
Targeted. Literacy assessments—whether in English or other languages—must consistently and accurately evaluate MLs' skills. A variety of types of evidence should be used to determine if MLs need extra learning support, and if so, what type.